ZIPPYKERB business opportunity is now only $8,820 plus GST Superb Value for a business that can earn over $1,500+ a day.

ZippyKerb is NOT A FRANCHISE every cent you earn is yours! No ongoing fees of any kind – Ever!

Thank you for visiting ZIPPYKERB - We are the original inventors of Continuous Concrete Kerbing. We developed the first Zippykerb Kerbing machine in Newcastle, Australia in 1982, with our first patent applied for in 1983.

-->

Thank you for visiting ZippyKerb - The Original 1981 Inventors in Newcastle Australia. Our business package is now only $8,820 + GST Superb Value for a business that can earn over $1,500+ a day. See full Package at bottom of this page. Zippykerb is not a franchise every cent you earn is yours! No ongoing fees of any kind!

HOT NEWS! FREE JOB ENQUIRIES TO YOU.

TO HELP GET YOU WORK WE HAVE NOW BUILT 4,208 WEBSITES
FOR EVERY MAIN SUBURB TOWN AND AREA IN AUSTRALIA

One of our group of companies is a major website and software developer. In the first 4 months we received over 13,798 Hits to these sites from people looking for concrete garden edging.

WE PASS ALL LEADS TO OUR OPERATORS FREE!
WE ALSO BUILD YOU A FREE INDIVIDUAL SITE WITH YOUR DETAILS

ZIPPYKERB's FREE TRAINING!

We offer FREE TRAINING at out Central Coast NSW Training Centre.

The training covers every aspect of the business including:

26 ways we have successfully generated business

The ZippyKerb Machine operation

Preparation and Laying the Kerbing

Colouring and Stamping the Kerbing

Creating our Exclusive KwikBrick …. And more.

(We are after all - the original inventors with 33 years' experience)

We LOVE training! It's very enjoyable and great interaction for all.

Alternatively: Not everyone needs / wants 'In House' training.

At least 90% of ZippyKerb operators worldwide have learned everything from our superb Zippy training manuals which are so precise and detailed, with lots of photos on marketing, lead generation and machine operation that people all over Australia or other countries become totally proficient without the expense and time of coming to our training centre.

The choice is yours. Whatever is best for you - We would love to see you at a training session or we will 100% support you with telephone advice and using our superb detailed manual.

Our full price is just $8,820 plus gst with no ongoing royalties, fees or costs of any kind. Included is the new look, faster ZIPPYKERB with 4 different profile moulds, the hand tools for the moulds, training and marketing manuals as well as specialised stamping process to create our exclusive KwikBrik ™.

When considering any new business it's important to begin with the end in mind – Will you be able to get the work / jobs?

Today, almost all inquiries for concrete edging come from the internet and referrals. One of our group of companies is Australia's largest online business directory and leading internet marketing specialist, consulting and building major websites and software to generate internet inquiries for many hundreds of Australian and overseas companies.

To capture internet leads for jobs in your area - we will build you a free web site with a high ranking domain name and guarantee it will be on page one of Google relevant searches.

We will also direct all inquiries to your location from our many zippykerb internet sites to you as well as putting you on our business directories for free .

Contact George: 0457 726 886 george@noblemay.com.au

PLEASE! Don't buy a Kwik Kerb® business until you know the FACTS!

Have a look at what a seller is trying to get for a near new business: " As a new package the cost is around $85,000. We are prepared to sell it for $15,000 - The unit has hardly been used, and many items have never been used"

Click on this link to take you to the Ad'

http://www.realestateguide.com.au/kwikkerbconcrete/

Don't pay many $1,000's more that you need to . We are the original inventors of the ZippyKerb back in 1982; we can set you up for around 10% of the above mentioned price of $85,000



Demonstrator machines also available - save
Master Licenses now available for Australian and the World.


ZIPPYKERB can produce 35 meters of quality continuous concrete edging per hour with a minimum of preparation and no fuss or mess.

The Zippykerb is self propelled and only needs guiding, it will only move forward when there is mix in the hopper. This is a mother and son team, one of our best independant Zippy Kerb operators. Lorna is feeding the Machine while Paul guides it. Lorna is now our Zippykerb operators training manager.

It is not 'hard' work as you are only working with coarse river sand and cement - mixed in a mixer then taken to the ZippyKerb in a wheelbarrow and shoveled into the hoper. The Zippykerb can easily do 20 to 30 meters per hour. .

Don't pay many $1000's of dollars for next to nothing!

Zippykerb Owners Agree: Zippykerb is far better value for money than our competitor Kwik Kerb®

To see what professionals from the Independent Lawn Mowing Contractors of Australia say about our competitor.

Buying any business is an important decision Zippykerb is GENUINE value for money.

TO BE CLEAR:
We are NOT KwikKerb®

We do not want to be associated with
Kwik Kerb® in any way .

We Began business in 1982 many years before Kwik Kerb®. Kwik Kerb® is charging what we consider to be ridiculous prices for their business opportunity.

You can save many $1,000's on the asking price of a Kwik Kerb® Business with our Zippykerb Package and purchase a new or used mixer and trailer (or Ute) locally.

You will find that Zippykerb offers REAL value for money as a proven full or part time business. We are the original inventors of the Zippykerb Continuous Concrete Edging. Zippykerb is a better deal than Kwik Kerb® in HUGE cost advantage, in the quality of the Zippykerb Machine, our training manuals, our lead generation web sites and our ongoing support from over 30 years' experience.

ZippyKerb (the Original) is NOT Kwik Kerb®

ZIPPYKERB produces high quality continuous concrete edging in a variety of shapes and designs it is the fastest and easiest continuous edging machine to use and operate.

Tough and Reliable . The only report we have on file of a machine breaking down is one that fell from the back of a Ute on the freeway... even then, the body was straightened with a sledge hammer and it's still working today!

Every ZIPPYKERBis 100%Australian manufactured by fully qualified 3rd generation engineers who produce quality in all they do – Zippykerb bodies are baked powdercoat. Hand tools are all handmade. Every ZippyKerb carries a 10 Year Guarantee .

The Exclusive ZIPPYKERB Training Manuals

Our manual covers every aspect of the business gained in our 27 years experience in ZIPPYKERB and our other sales training and building companies.

This includes training on the use of the ZIPPYKERB machine, sales techniques, marketing, advertising, quoting the jobs etc.

A complete and success proven -Turn Key Business Package.
The Market potential
There are thousands of potential clients for ZIPPYKERB Continuous Concrete Borders – in residential, commercial, industrial, government, council's etc ... wherever there are gardens and landscaping.
Zippykerb edging is available in many shapes, colours and designs.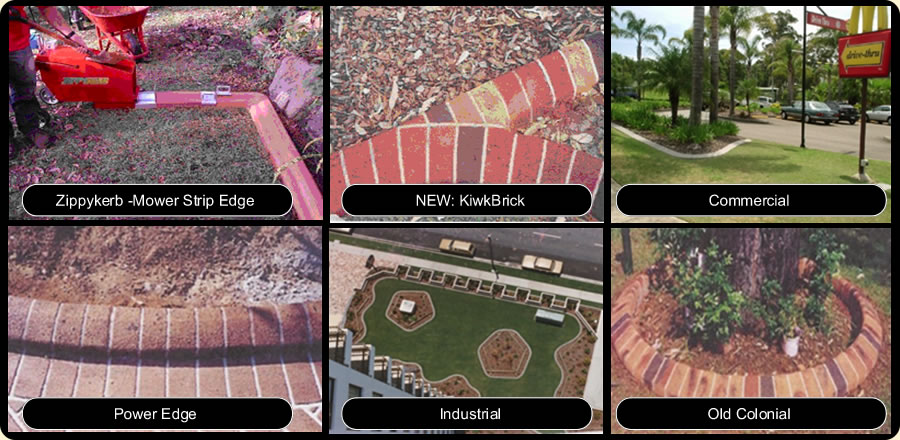 Income Potential
There are NO royalties or ongoing fees of any kind - ZIPPYKERB is not a franchise - every cent you earn is yours.
Income potential always depends on a number of things, such as whether you work full or part time on the business, location etc.
We can show you an example but Please Note, it is not an accurate projection to base your decision to purchase on, prices vary by region, job size, edging style etc.
Income Assumptions- based on a week.

That a team of 2 people, a senior person and junior helper does 3 plain concrete jobs and 3 coloured stamped jobs.
That each job averages 50 meters
That they sell the plain concrete jobs for $18.00 per meter and the coloured stamped for $25.00 per meter (average current Sydney prices).
That the average cost of the materials for the plain concrete job is around $2.50 per meter
And the cost of materials for the coloured stamped job is around $3.50 per meter
That a junior helper is paid $20.00 per hour (varies with age/ location).
Zippykerb: Machine Mold Shape


Mower Style
175mm x 90mm


kerb Style
175mm x 90mm


Sloping Edge
175mm x 90mm


Hi Kerb Style
175 mm x 165mm


Kwik Mini
90 mm x 110mm

NEW EXCLUSIVE!

Another First:
Our KwikMini Profile.
Just 90mm x 110mm

(Watch how long it takes KwikKerb® to copy us again)
In this week, the team does 150 meters of plain concrete edging and 150 meters of stamped coloured edging:
150 meters plain edging @ $18.00

$2,700

150 meters stamped edging @ $ 25.00

$3,750

Gross income for the week

$6,450

Estimated Fixed Costs:

Material

$900

Helper

$500

Fixed costs

$1,400

Profit remaining

$5,050
Selling prices vary on the size of the job and style. And things happen - like flat tires and rain or forgetting something – all affecting income. .
The profit shown doesn't include overheads such as vehicle running, office (most people work from home) advertising etc.
We suggest being very conservative and work out your 'start-up' projections on as little as 1 or 2 jobs per week.
Even on ONE job a week, ZIPPYKERB is still a very good business – especially as a part time income stream.
One job: Say 50m of stamped coloured edging at $25 per metre
Selling price $1,250. Materials $175. Helper (say) $120. Outlay $295 . Leaving a net profit of around $955
One such job a week – over 12 months net's around $49,000
The main benefits of ZIPPYKERB
An opportunity to be your own boss - either full or part time.
A product with high consumer acceptance that is becoming more popular every day
Exceptional profit margins, typically the materials cost of the finished edging is around 12% of the job price.
Most ZIPPYKERB business are home based with low overhead
There is a PROVEN "Blueprint" for success backed by our 27 years experience to help fast track your skills.
ZIPPYKERB Edging has high consumer acceptance.
People buy continuous edging because the product represents genuine value for money.
As well as being functional, it looks good and helps make their property look good to themselves and others.
This combination of looking good to you &making you look good to othersis one of the most powerful internal buying motivators, making the selling of a value for money product much easier.
How much business is there?
In today's economic climate, some of the best businesses to be in are home improvements / building / landscaping – everyone is into improvements and appearance . ZIPPYKERB fits right in there. .
Think of how many companies there are in your area doing say rain gutters, roofing or glazing!
Look in the yellow pages at the number of glazing businesses there are, we just did and there must be hundreds in Sydney alone.
ZIPPYKERB 's potential clients include: home owners, apartments, commercial, industrial, government parks, clubs, council's etc
In our experience, the absolute reality is that the market has not even been scratched, many homeowners, landscapers, builders, architects would see the product as a major benefit to their property or business, and most would only have a vague idea that it exists.
We know of one operator who worked exclusively with three landscape contractors and never needed to look for further work, indeed, when I was running a crew full time I got all of my business from four landscape contractors.
One of our favourite sayings:
"He who whispers down the well about the things he has to sell will never make as many dollars as he who climbs the tree and hollers".
Success is the result of planning and effort.
Nothing can compete with getting out and showing / talking / exposing others to what you have to offer.
ZIPPYKERB is a proven win / win business opportunity:
If there is potential for business between us it will be because we exchange value.
In your case a financial investment where we make a fair profit - while we provide you with value in a business package that it is relatively low risk with the potential to provide generous immediate and long-term income.
ZIPPYKERB is one of the Noble May group of companies:
Since developing ZIPPYKERB in 1982 we have gone on to develop a number of very successful local and international businesses:
One of the world's most successful training and consulting organisations with many 100's of clients worldwide, including many of the world's largest companies in the USA, Asia, Europe and Australia
www.noblemay.com.au
Australia's largest online business directory and instant "Website Tonight " web site builders.
www.hellococky.com.au
Owners of major interactive web sites and developers of leading edge software.
www.allpage1.com
Past owners of one of Australia's largest building materials manufacturers and building companies with offices in Sydney, Melbourne, Brisbane, Townsville, Newcastle, Orange, Griffith, Wagga Wagga (Now sold).
The experience and success we have to pass on in all aspects of Business, Training and the Internet is a major positive to consider becoming aZIPPYKERB owner.
Looking forward to conversation
Best regards:
Contact George on: 0457 726 886 or email george@noblemay.com.au

---
The ZippyKerb REAL VALUE Business Package
Just $8,820 Plus GST - SAVE THOUSANDS!! over our competion
A newZippyKerb Continuous ConcreteEdging Machine
A petrol driven trenching machine to prepare a custom 200mm trench
4 forming moulds for the machine: Sloping Edge, Mower strip, Border edge, High Profile Border
Finishing hand tools for the above moulds
3 x Rubber Stamping slate style impression tool
Ownership of a Zippykerb website domain name (to be agreed)
1 Machine operations / work installation manual
1 Marketing/ Advertising / Sales Skills Manual
Various artwork for business cards, signs, paperwork etc.
Permission to use the Zippykerb name
Free membership for 5 years on HelloCocky.com.au (we own it)
We will build you a lead generating website free for your location and host it for 12 months. Thereafter hosting fees are only $120 per year paid direct to the hosting company.
We guarantee the site will be in the top 10 on Google search results for the website. We would typically expect the site to be on page one in the first 3 results.
Free ongoing support and advice via telephone or email.
Further Zippykerb machines purchased by you will be at 10% discount from current advertised price
Various job photos for your presentation manual
T-shirts & Caps with the Zippykerb Logo
Any leads we receive for your area for work we will pass to you via email for free. (more than one Zippy operator in an area we will share equally)
There are No ongoing fees of any kind – No payment to Zippykerb of any kind on the sale of the business
Every cent you earn is yours - we will support you to do as well as you can in any way we can